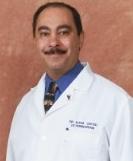 Immediately after graduating in 1984, Dr. Gayed worked for 5 years in a veterinary laboratory and research institute enabling him to learn in depth the various laboratory testing and diagnostic practices, with special interest in Microbiology, Parasitology and Serology. From 1989 on Dr. Gayed has focused on dogs and cats in different small animal practices before starting to work in Market Lane Animal Hospital in 1998. After 2 years in March/2000 he bought the clinic and applied lots of changes to meet the highest standard of a vet. clinic by computerizing the clinic, upgrading equipments (X-ray, Enoscope and Dental equipments) and adding an in-house state-of-the-art blood analyzer.
Dr. Gayed is an active member of the Canadian Veterinary Medical Association CVMA, The Ontarion Veterinary Medical Association OVMA and The Vet International Network VIN. He strives to keep up-to-date with the latest technologies, treatments, procedures, equipments, and pharmaceuticals available in the market by attending courses and seminars on a regular basis to offer you the best service to keep your four-legged companion healthy and happy.
Dr. Gayed enjoys family time with his wife and 2 children and the companionship of his dog "Cookie".
In his free time he likes painting, Scuba Diving, underwater photography and travelling.